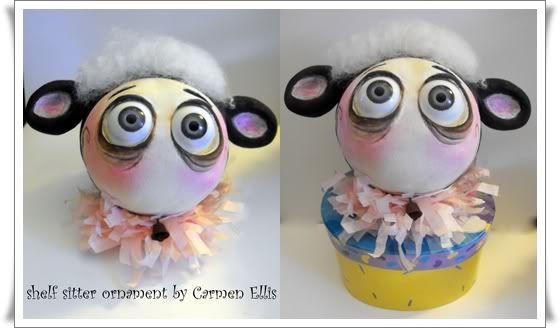 ( If you can not click the links please let me know by posting. The preview is not showing my links working! )
Hey everyone! Easter is right around the corner and I am working on new dolls for the holiday! Keep watching for Spooky Hollow member emails for updates but today I would like to share with you an oh so sweet Lamb shelf sitter or ornament. This guy is big measuring 4 inches high and 5 inches wide. A sweet Easter box comes with him and you might want to set him on it when you display him. You can also hang him on a tree or anywhere you like. The photo above is the Grimmy lamb ornament. You can only find him at the Halloween Queens Boo-tique! Click
here to looksie!
Secondly here is the winner of the mini sheep doll!
Iangad bois please email me at
folkartist@spookyhollow.net
with your address.
Also don't forget to pick up your copy of Haunted Path where Spooky Hollow is a featured guest! Dean Hagland of X-files is also in this spooky cool Magazine!
You can purchase one here or email me for a signed copy!
Haunted Path Magazine click here
Don't forget to enter the win a large Grimmy doll! Just email me to enter.
Folkartist@spookyhollow.net
Have a spookyful day!
Carmen and Grimmy Ellis
www.spookyhollow.net