Monday, November 3, 2008
Posted by

Whimsyfolkartist
at 3:38 AM
1 comment:
Links to this post


Sunday, November 2, 2008
I had to make a post about this. The other day I went to our towns GoodWill outlet store and did I hit the jackpot. I found LOADS of brand new knitting yarn, string and crochet yarn. If I would have bought all this in a regular store it would have came up to over 300 dollars! I plan on using it for hand made scarves, blankets, hang tags and other projects. If you have never been to a Good Will outlet now is the time to go and have a blast thrifting. You pay by the pound and if you have over 20lbs of items in your cart it is only 58 cents per pound. If you check out with another person you can get half off your total! I bought this yarn, some vintage boxes, a wonderful sewing dummy and other odds and ends I can use for all my crafting and painting. They have WONDERFUL vintage wood boxes each time I go. I paint them or decapauge them and sell! You can even go through clothing items for vintage buttons, beads you name it. If you are like me and you love to craft and come up with new ideas you should really go thrifing. Not only is it a wonderful stress reliever it is a smart and economical way to help your business.
On my last trip I found a BRAND new porcelin doll IN THE BOX, Vintage awesome wooden bird houses, vintage metal photos and photo albums, vintage blocks, YARN YARN AND MORE YARN, Brand new Christmas craft supplies like pom poms in the bag, ornaments, lampwork beads. I had to share my love for thrifing with everyone!
These are just a few photos but thrifting has saved me so much money!
Most towns have a GoodWill outlet not to be confused with the regular Goodwill store.
Just look it up in the phone book and give it a chance. If you go it is a very good Idea to bring gloves. You are sorting through bins and could but your fingers.
They do provide plastic bags but It might be a good Idea to bring a few boxes with you to store you loot in.
They bring out new bins every 2 hours. I like to go at 9 am when they open and there are very few people there. I stay until the 11 am bin change and take my loot and go home and play lol.
Do you know there is a shop here in Indy that sells popular clothes and purses and so on that gets almost all their items by the pound from Good will outlet stores!
Let me know what you guys think!
Below are some photos of some of my Goodwill outleft finds. You can even find brand new Canvas's!
Posted by

Whimsyfolkartist
at 4:47 AM
1 comment:
Links to this post


Friday, October 31, 2008
PY HALLOWEEN!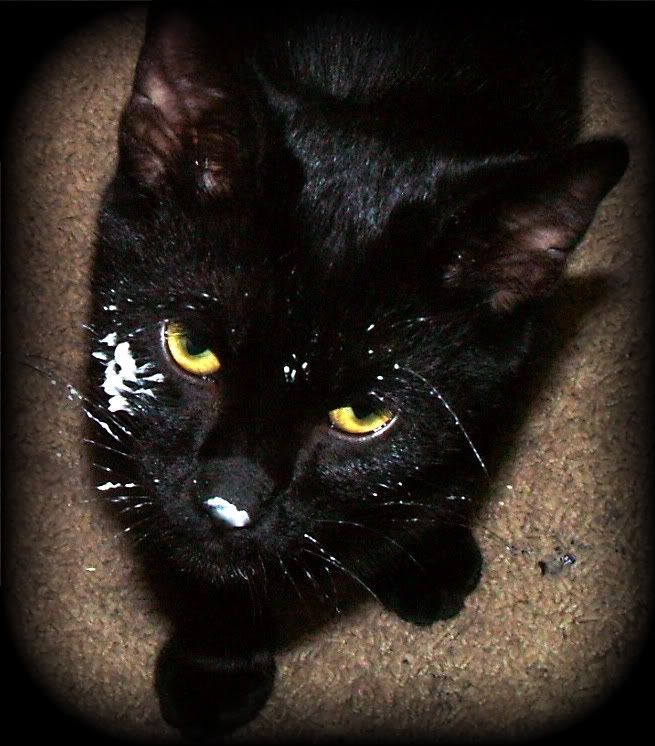 From Our Very own Halloween Kitten Tom Cat and his friend Salem kitty!
My little boy decided he wants to be the Phantom of the Opera loL! I have a mask for him but now I need to hurry up and make him a cape!
I was hoping to get more in the blog today but I have sewing to do and a huge pumpkin to carve!
Monday I will be announcing the winner of the Critter Earrings!
Still time to win just make a post of follow the blog and you are entered!
Also here is a new pic of our latest Back yard Critter!
Last but not least here is a sneak peek at some of our new beads!
Please have a safe and Happy Halloween!
Posted by

Whimsyfolkartist
at 7:43 AM
No comments:
Links to this post


Wednesday, October 29, 2008
If you post in a blog and NO one is there to Read it Does your blog Acutally Exist?? HMMMMM
HEY!
Don't forget to post a comment to be entered to win a free pair of my Critter Earrings!
Tell a friend...
I'm loney here! I hear ECHOOOOOOOS!
IS ANYONE OUT THERE!
Post and let me know lol!
Ok,
Below are some of my Back yard Critters and 2 new paintings I have started.
The Huge one is On an Old Big Wooden Cubbard Door. It will be a folk art Christmas angel.
The other is on Canvas also pretty big and will be a Winter Folk art Scene.
Just wait till I am done it will not be what you think!
NOW POST SOMETHING!
WIN CRITTERS!
HUG ME!
Posted by

Whimsyfolkartist
at 4:12 PM
4 comments:
Links to this post


Tuesday, October 28, 2008
Monday, October 27, 2008
The Dos and Donts of bead and jewelry making!!!!
Check out the photos and decide which is a DO......or a DONT!
If you post a reply you will be entered to win a Free Pair Of Critter earrings!
Btw..I tried and tried to fix the weird text in this post and failed! Please be patient with me the blog newbie while I figure this thing out!



Hire a chipmunk????
Hire your cat????
Hire a squirrel????
Only make beads while wearing cat pants and bear socks?



Make one out of Fimo Clay??? DO OR DONT??


Use A Peanuts halloween Display TOY???



Find an old PUMPKIN CANDY??????
USE LINUS??????
Use a Lampwork Kitty Bead???
GLOW IN THE DARK SHEEP???
Ok....
Which methods are Do's and which methods are don'ts???
Let me know your thoughts and ONE person will win a Free pair of Lampwork critter earrings!
Just post a reply or comment!
Posted by

Whimsyfolkartist
at 4:06 AM
5 comments:
Links to this post


Sunday, October 26, 2008
Had to show off my new Frog Lampwork necklace and bracelet! The necklace comes with a matching pair of lampwork glass earrings! Too cute! Of course I saved one frog for me!!
You can see more at my Etsy store. The link is on the right side of this page!
Posted by

Whimsyfolkartist
at 4:51 AM
4 comments:
Links to this post


Friday, October 24, 2008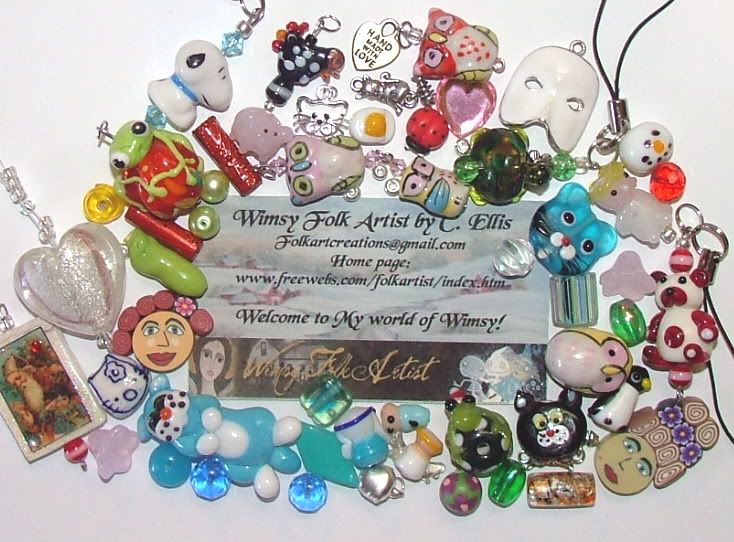 Ok this is my very first blog post...

ANYONE OUT THERE??

( ECHO ECHO ECHO...) HeHE..I am a folk artist, Wife, mom, nature lover, feeder of back yard critters, horrible guitar player ect ect ect...I Love to paint using acrylics, ink, charcol & pencils. I will paint on ANYTHING! Well not my cat but....Canvas, Canvas board, Gesso Boards, Antique Barn wood...I have this amazing stash of 100 yr old barnwood from my neighbor ) old boxes, suitcases...I mainly end up painting my face lol.I am a hopeless lampwork critter bead addict as you will see! I aslo dabble with Fimo clay making beads and pins and altered art items.I can't stop crafting EVER so I make a lot of this and that...even candle goodies!So take a look at my photos and let me know what you think...that is if anyone sees this lol.Get some popcorn cause here we go!


Our new baby Cat TOM..get it? TOM CAT?

My Favorite Lampwork bead..I even talk to it..heh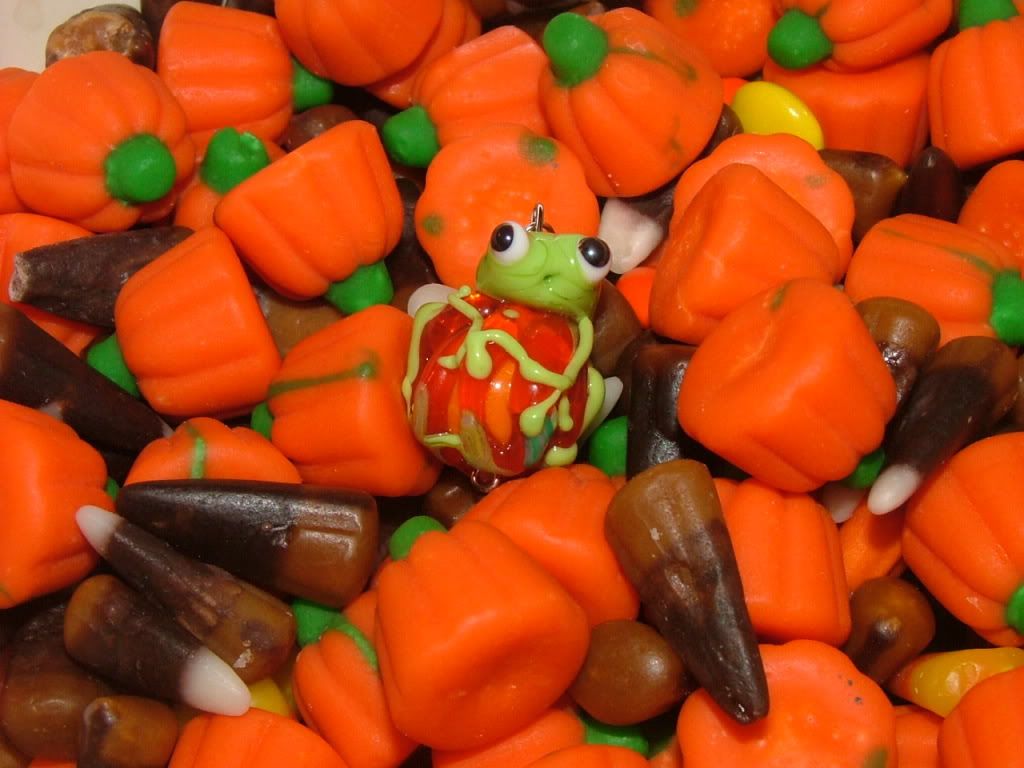 My 1 yr old cat Salem..she just LOVES to model for me..NOT!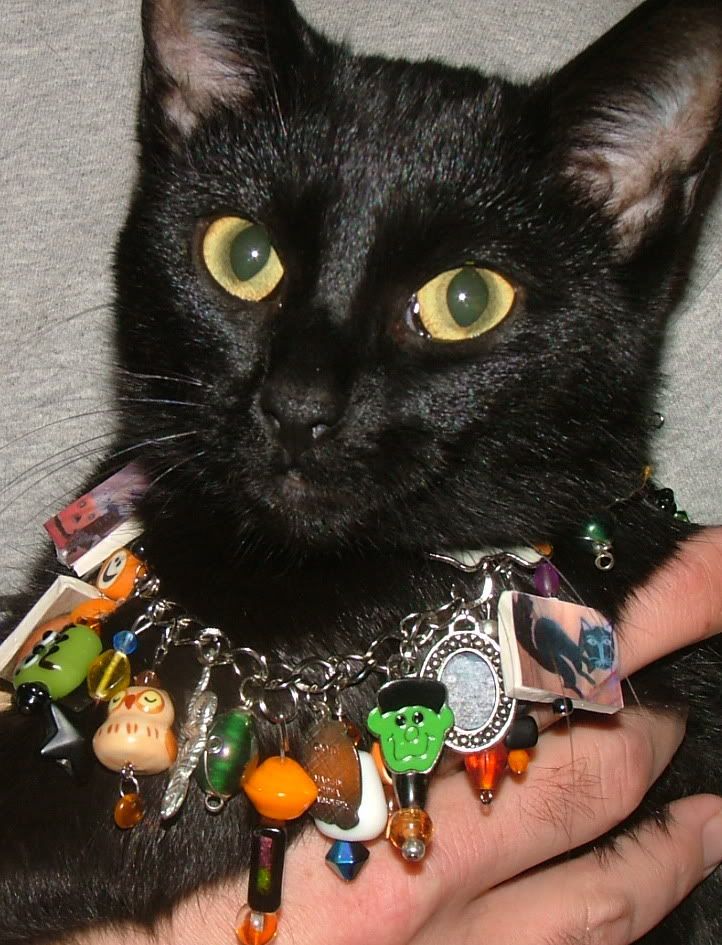 My Favorite pair of slippers!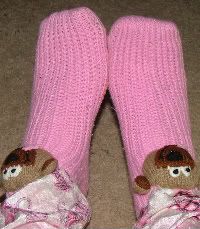 Halloween goodies and such..
These didnt work they were slide shows lol. See I have no idea what I am doing just yet!


Christmas goodies and such!
Lets try this....
Hmmmm It kinda worked!


I think I slammed you with enough photos for one day! Wait till I start pulling out the ghost pics..I am a hopeless paranormal fan! Ghost hunters, true stories anything creepy! The Topic for tomorrows post....LAMPWORK BEAD ADDICTION...GOOD OR BAD?Or...Do people really lick toads and how many licks does it take to get to the center of a tootsie pop??Ahhhhhh 1....ahhhhhhh 2......TUNE IN TOMORROW TO FIND OUT! Or the next day not really sure yet...HEH!GO BUY SOME STUFF!http://www.freewebs.com/folkartist/index.htm
Posted by

Whimsyfolkartist
at 10:03 AM
No comments:
Links to this post