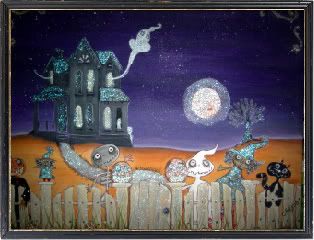 Yesterday I spent the entire day on the pc listing things. I love to make art but I HATE listing it lol. I got a lot done in Ebay and Etsy but Nothing done with my new bonz.,....bonza....Bonazeeegoooglebot...You know what I mean! HEH!
I might work on that for a little while but then I need to play with clay and watercolors today! Right now I have the windows open. I am the only one awake in the house and the birds are singing outside. It is sprinkling right now and thunderstorms are on the way. Oh how I love thunderstorms lol! So I have most of my family here and I am going to de stress and enjoy my day because tomorrow the school and doctor rat race begins again.
Here are some photos for you to peek at and I hope everyone has a wonderful Sunday.Some of the photos are things I made in Halloween past, some are of my yard and stuff. One is my Opa or Grandpa in German. He is my inspiration and he is missed.
Btw...Don't forget about my contest folks..just scroll down until you see a jar of candy corn beads and pumpkin beads. Then just post how many you think are in the jar!